Easter Bunny Imposter Still on the Loose
Metro police are looking for an Easter Bunny imposter that has been on the loose Numerous sitings have been reported around the Nashville area.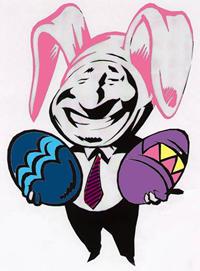 In a statement made today by Det. Wiggum of the Metro Police department, "Anyone spotting the Easter Bunny Bandit should call Metro Police immediately. He has been spotted at the Walgreens location in Green Hills, the Costoc location in Coolsprings and the downtown postoffice in Nashville."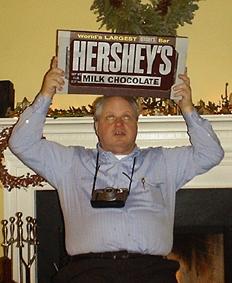 Giant Candy Bar Falls
From sky, lands on man's head

A giant candy bar fell from the sky and landed on a local man's head today. Witnesses said the candy bar "came out of no where and landed on Robert's head". When asked what he was going to do with the giant bar of chocolate, he said that he was "going to give it to a friend who collects misc. oddities and junk, or he was just going to eat it himself".
Email: [email protected]
Robert E Johnson
Fun Facts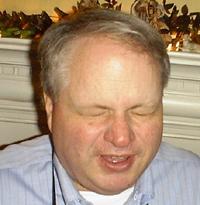 Favorite Color - Blue
Favorite Tie Color - Red with Navy Stripes
Favorite Camera - Nikon
Favorite TV Channel - The Weather Channel
Favorite Thing to Talk About - Himself
Favorite Place to Eat - McDonalds
Favorite Thing to Collect - Junk
Favorite Car - The one that runs
Favorite Store - Walgreens
Favorite Hangout - Downtown Post Office
Favorite Slogan - If you knock it over, pick it up
Favorite Candy - Chocolate
Favorite Food - Butter
Least Favorite Activity - Organization